The truth in black and white
Noir reading, now and forever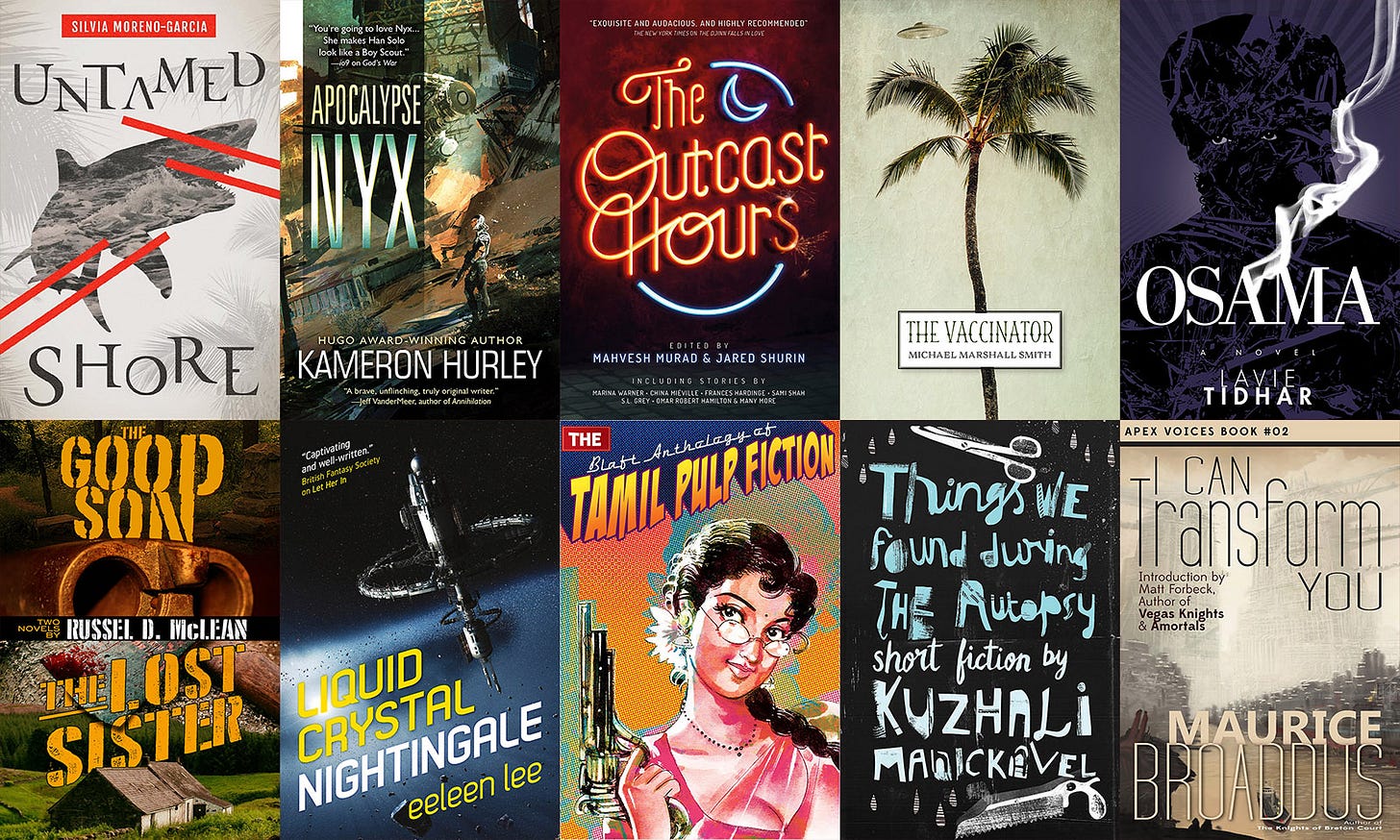 For the low-low price of 'whatever you want to pay', you get a copy of this lovely anthology plus four other excellent book. And if you kick in $15 or more, you get ten books total.
The theme is 'International Noir'. I love noir, and having a book I co-edited receive that lofty designation is pretty heady stuff.
The bundle is shared with some of my favourite authors and books - again, for those that know me, you'll know that folks like Maurice Broaddus, Lavie Tidhar, Silvia Moreno-Garcia and Kuzhali Manickavel are go-to reads for me. (I have, I confess, bought the bundle myself, as the Tamil Pulp Fiction anthology has been on my reading list for ages.)
This is a time-limited offer, so sidle up to the link and get your click on.
Second, 25 recommended noir books.
We're almost at the weekend, so here are a few of my personal favourites.
I've controversially left off Chandler and Hammett, because a) just read them, b) they don't really need another recommendation, c) a) again.
Megan Abbott - You Will Know Me. I mean [any Abbott] is noir - unconventional, often 'domestic', noir that takes place in unusual spaces and subcultures. Dare Me is probably the go-to here, but I've chosen You Will Know Me for its distinctly twisted look at the culture of the suburban gymnastics team. As with all great noir, it is tense throughout. You know there's wrongness, and it is everywhere, but you can't quite put your finger on it. You Will Know Me's reveal may shock, but it does not disappoint.
Bill Beverley - Dodgers.
Peter Blauner - Slow Motion Riot. I'm still not sure I actually liked this book very much - it was part of last year's mystery reading challenge - but it has stuck around in my head, and when I think of somewhat-contemporary-The-Wire-esque noir that explores the fragility of systems, this particularly grim read about a foundering probation author definitely fits.
William Boyle - Death Don't Have No Mercy. I really like Boyle's peripatetic, atmospheric storytelling.
H. Vernor Dixon - The Hunger and the Hate. You cannot go wrong with any of HVD's (very out of print but often cheap) books, and I think he's an overlooked noir giant. This one is my favourite because it allows me to use the phrase 'lettuce noir', because this is, indeed, noir about lettuce.
Cecilia Fremlin - The Hours Before Dawn. Still gives me the shivers.
Malin Persson Giolito - Quicksand. There was a brief spate of 'school shooting' books a few year ago, which, to be honest: ack. But Giolito's 'Scandi noir' perspective is empathetic without ever being prurient; riveting without ever feeling salacious. It is not an easy read, but it shouldn't be.
David Goodis - Shoot the Piano Player. Pick any Goodis, really.
Dashiell Hammett - The Glass Key. 'I'm going to leave off Chandler and Hammett…' and then I got to the H's and, honestly, there's really no way I'm leaving Hammett off this list.
Chester Himes - A Rage in Harlem.
Gavin Lambert - The Slide Area. Hollywood noir.
Attica Locke - Pleasantville.
John D MacDonald - One More Sunday. I'm a JDM fanboy, but most of his work hovers around on noir's emo fringe. I wouldn't argue that Travis McGee, for example, has particularly noir sensibilities. Probably his most noir works are the ones that aren't mysteries at all: his deep dives into the corruption of the middle class dream (The Key to the Suite, Cancel All Our Vows) and his more institutional novels, which look into the rot that invades systems. One More Sunday is an example of the latter - focusing on the rise of a decadent evangelical media empire. It is, again, the sort of systemic noir that I really enjoy. JDM does his - as always - excellent character work. He brings out that claustrophobic feeling that is really essential to the genre, but also explores, at length, how idealism can corrupt. And not a fedora in sight.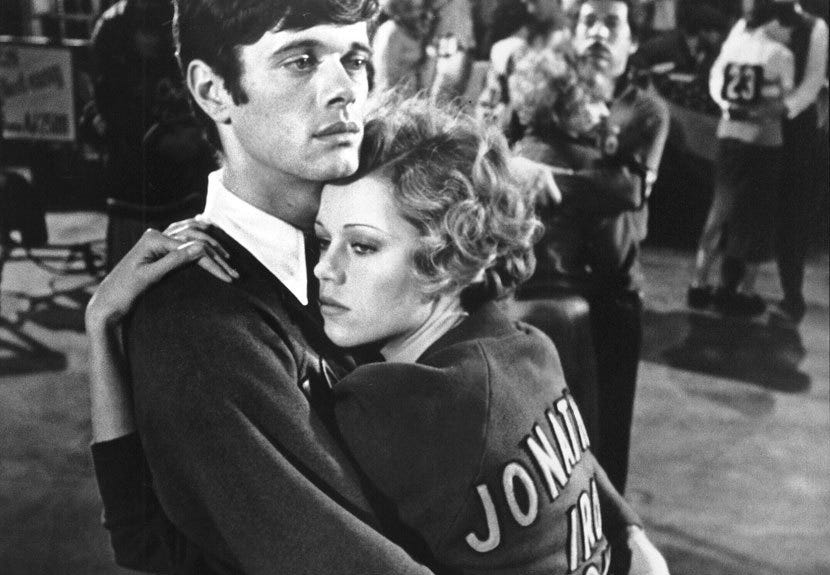 Horace McCoy - They Shoot Horses, Don't They? Noir without a crime or a detective. Or even 'mystery', really. But if you want a couple hundred pages of excruciating, soul-crushing claustrophobia, that leaves you with the need to scream and run around the block a few times, this is as good as it gets.
James McKimmey - Squeeze Play. I also really like Run If You're Guilty and The Long Ride (and the beautifully named Blue Mascara Tears), but I'm a sucker for a casino setting.
Margaret Millar - Banshee. Also Beast in View. Also The Fiend. And Vanish in an Instant.
Wade Miller - Stolen Woman. The writing duo known as 'Wade Miller' can be kind of hit or miss. Stolen Woman is conventional, but good fun.
James Ross - They Don't Dance Much. Pretty much the most Jim Thompson book that's not written by Jim Thompson. That's a good thing.
Glendon Swarthout - The Shootist. I've included two noir/[other genre] crossovers in here. I think there are - at rough count - about 80,000 books that claim to be a [genre]/noir crossover, and - at rough count - I think 79,998 of them are wrong, and written by people who like to use the word 'shamus' in an unironic way. Even The Shootist is a stretch. It is certainly not noir 'by intent'. More like this is a book perfectly positioned in the slim (but noteworthy) overlap between Westerns and noir. It is deliciously tense. There's a crushing inevitability. It is about the flaws of both idealism and moral pragmatism. It rages against the pillars of the establishment. And it ends, as it should, in the best-and-worst way.
Jim Thompson - The Killer Inside Me. One of the most loathsome and charismatic protagonists in all of literature.
Lavie Tidhar - Osama. Here's the other crossover. Osama is deeply disturbing and ferociously brilliant. Set in an alternate world, a private detective tries to hunt down the mysterious author of a series of pulp novels: Osama Bin Laden. It is The Man in the High Castle for a post-9/11 world, and is a deeply uncomfortable story about stories themselves.
Sarah Weinman (editor) - Troubled Daughters, Twisted Wives. A superb anthology of 'domestic thrillers', which highlights the many, many talented (and overlooked) women writing noir fiction over the years.
Donald Westlake - Memory. Westlake wrote a billionty books, many of which were satire and many of which were pastiche and many of which were funny. Memory is none of those things. It is absolutely heart-rending.
Charles Williams - The Big Bite. The blackmailer-gone-over-his-head shtick is a genre trope, and Williams does it well here.
Cornell Woolrich - Phantom Lady. The plot is predictable, the writing is glorious.
Third, because of the Rule of Brick.
There is a rule, a bit like Godwin's Law, that whenever someone mentions noir on the internet, someone will talk about Brick. I hate Brick. It takes all the most melodramatic and implausible parts of teen movies and then slaps a scalpel-precious mumblecore aesthetic over the top. It is Cruel Intentions without joy or set design.
Anyway, I proudly present five teen noir films that are better than Brick: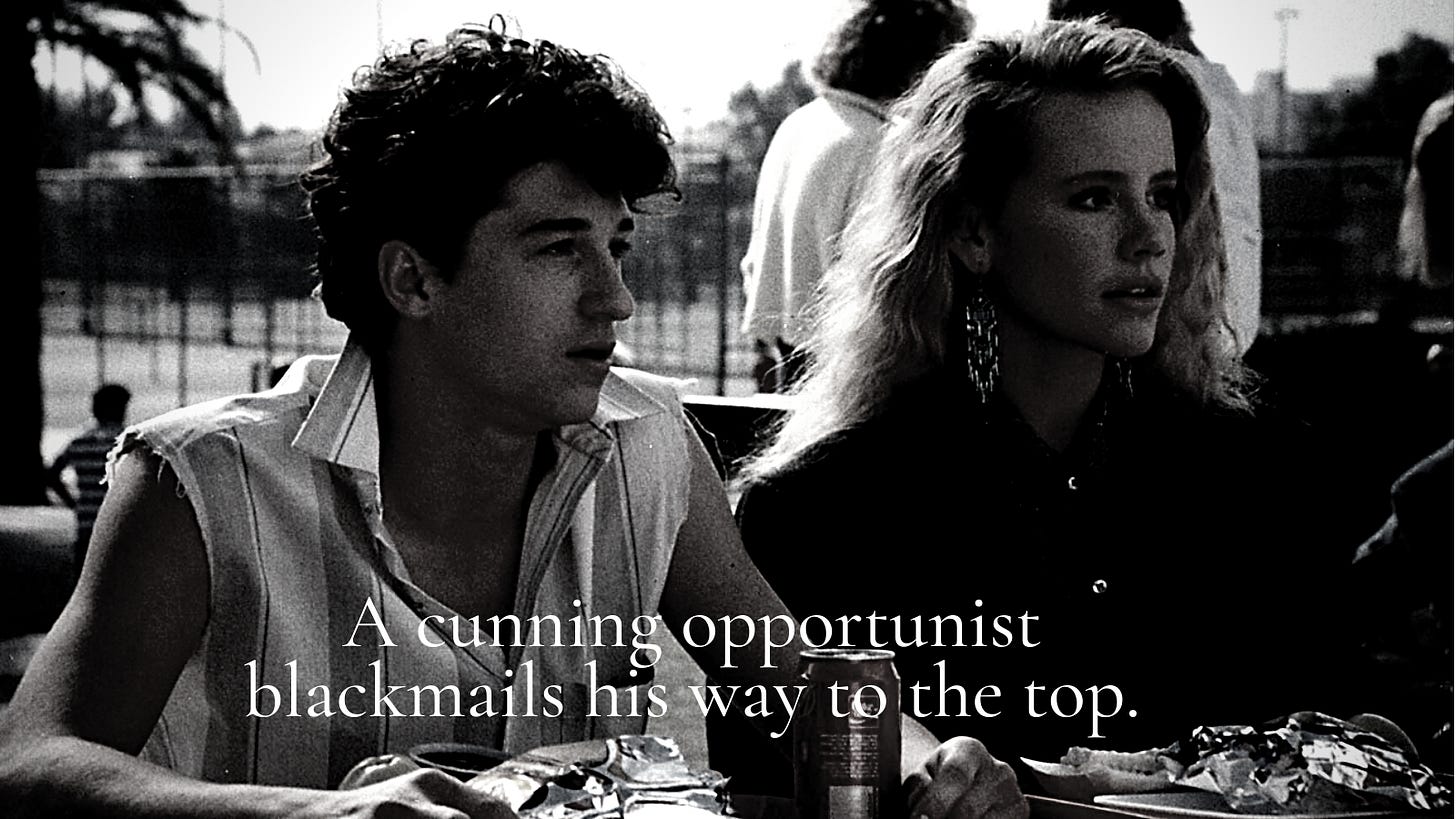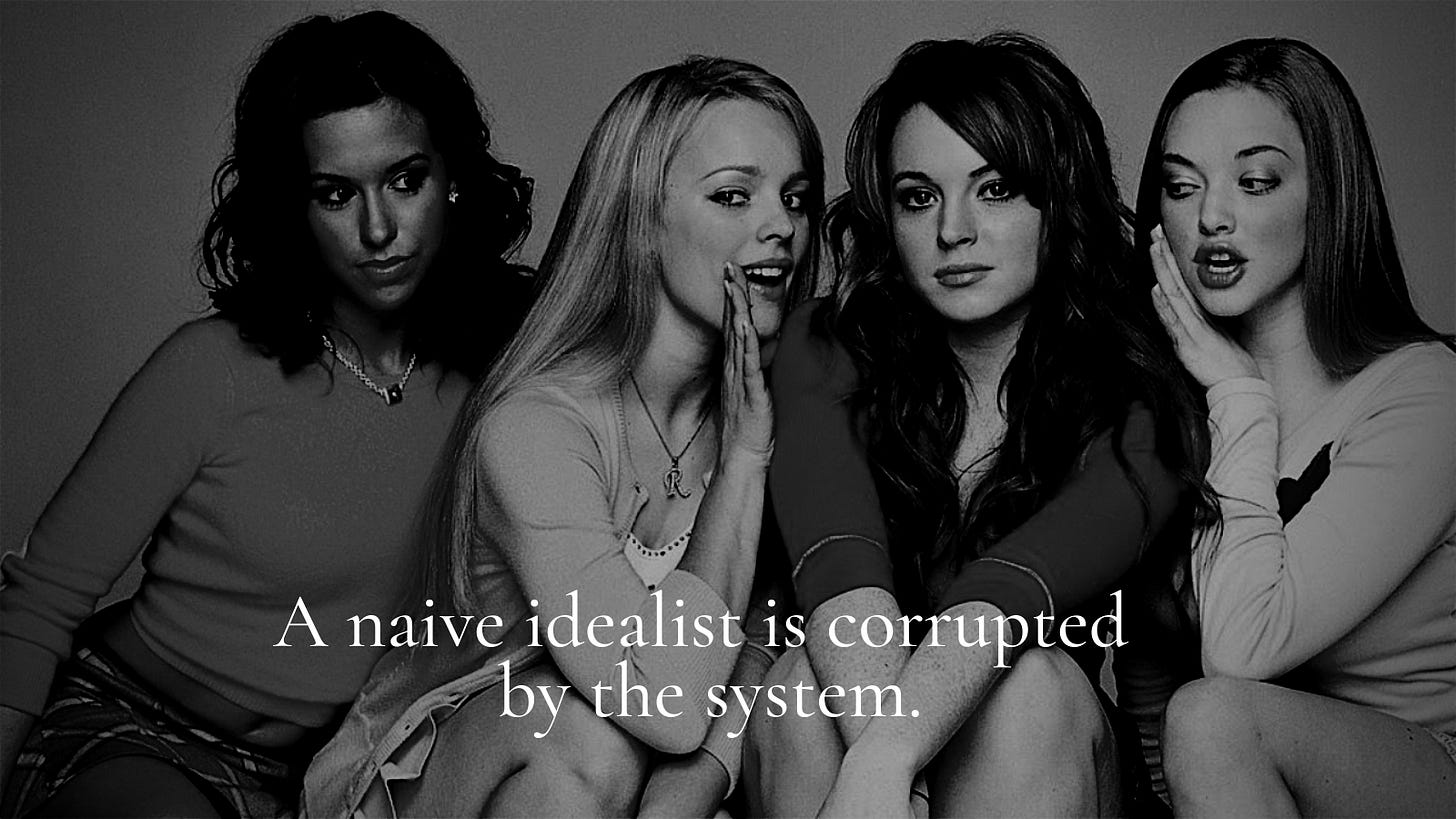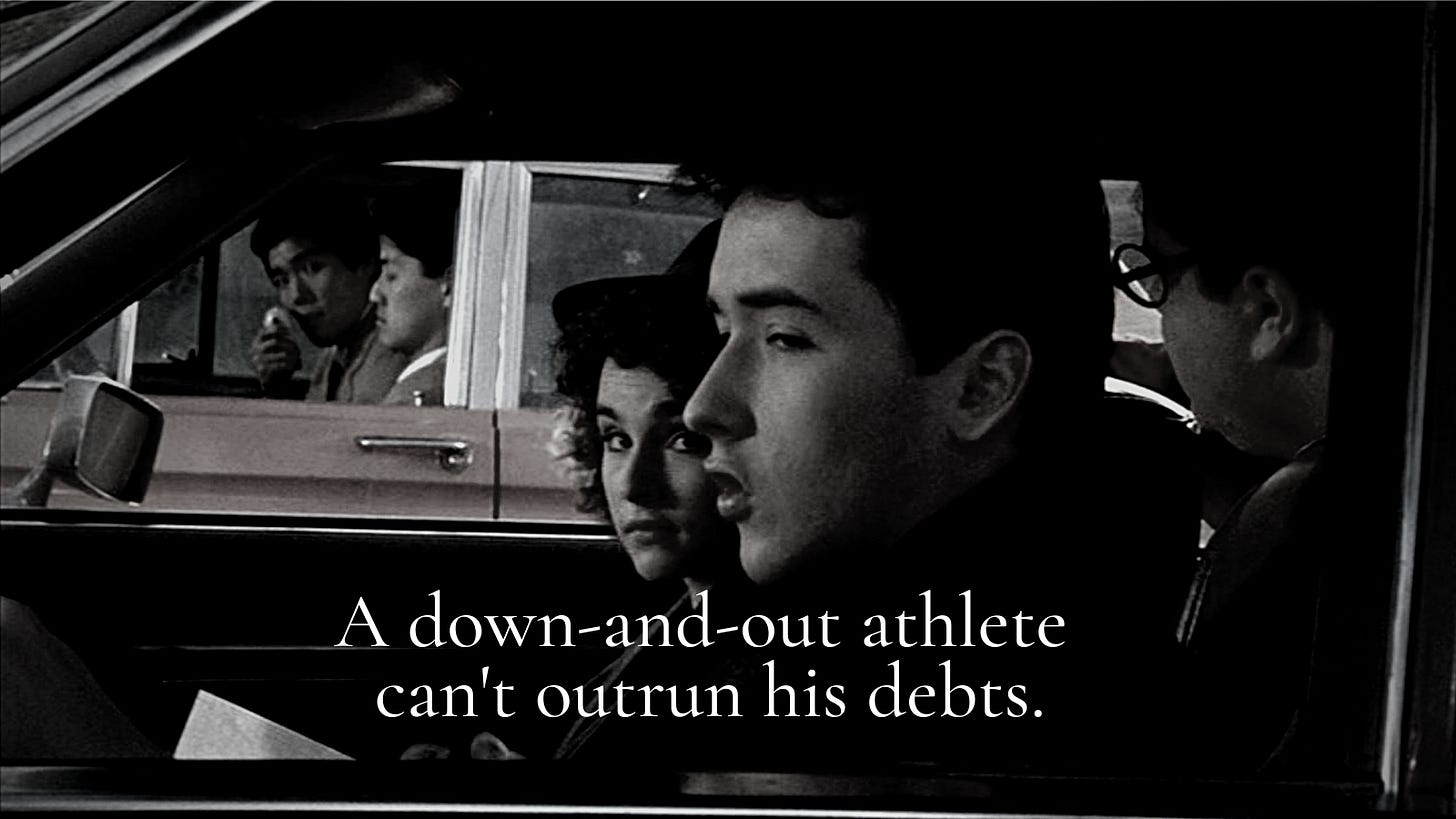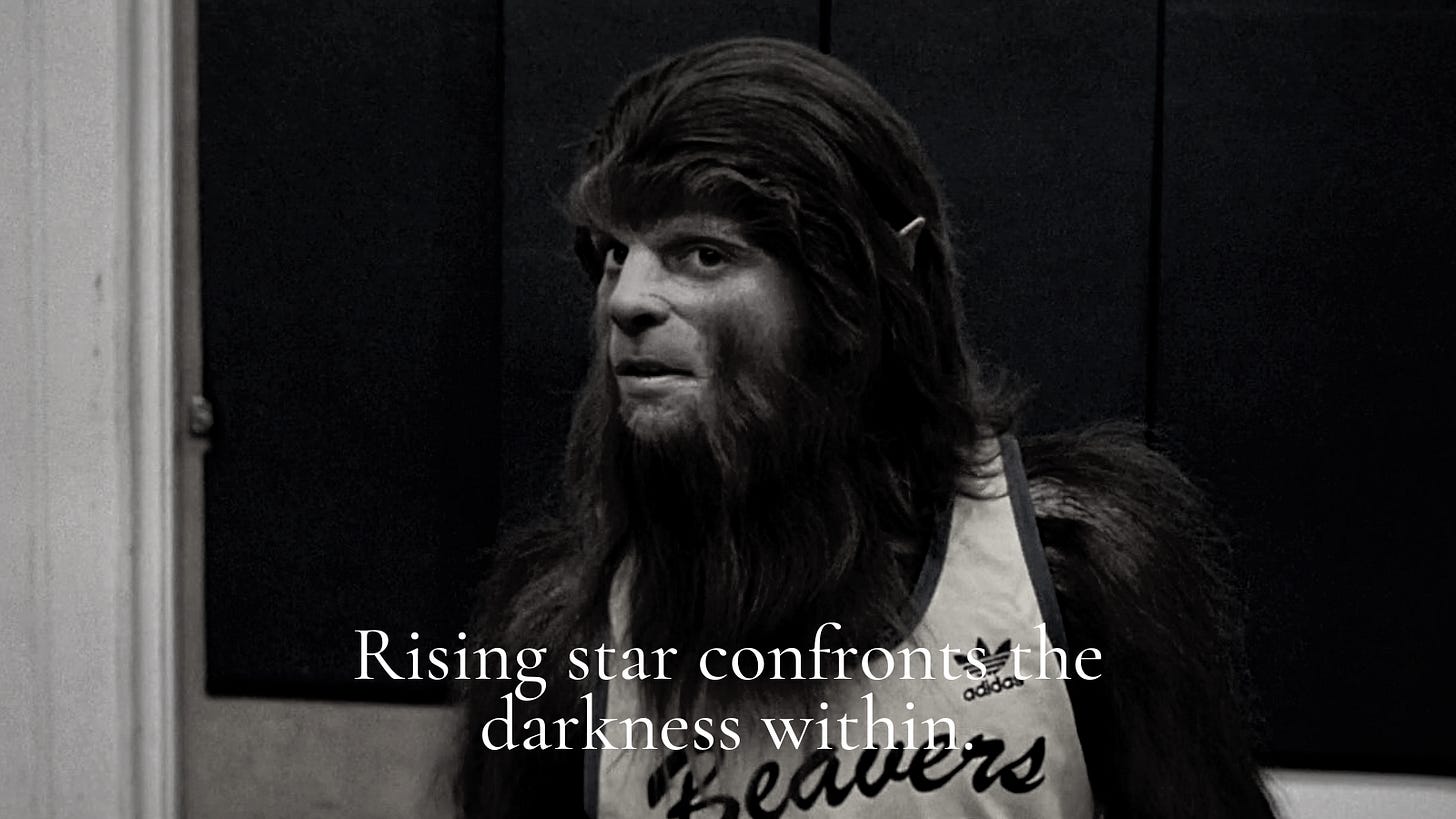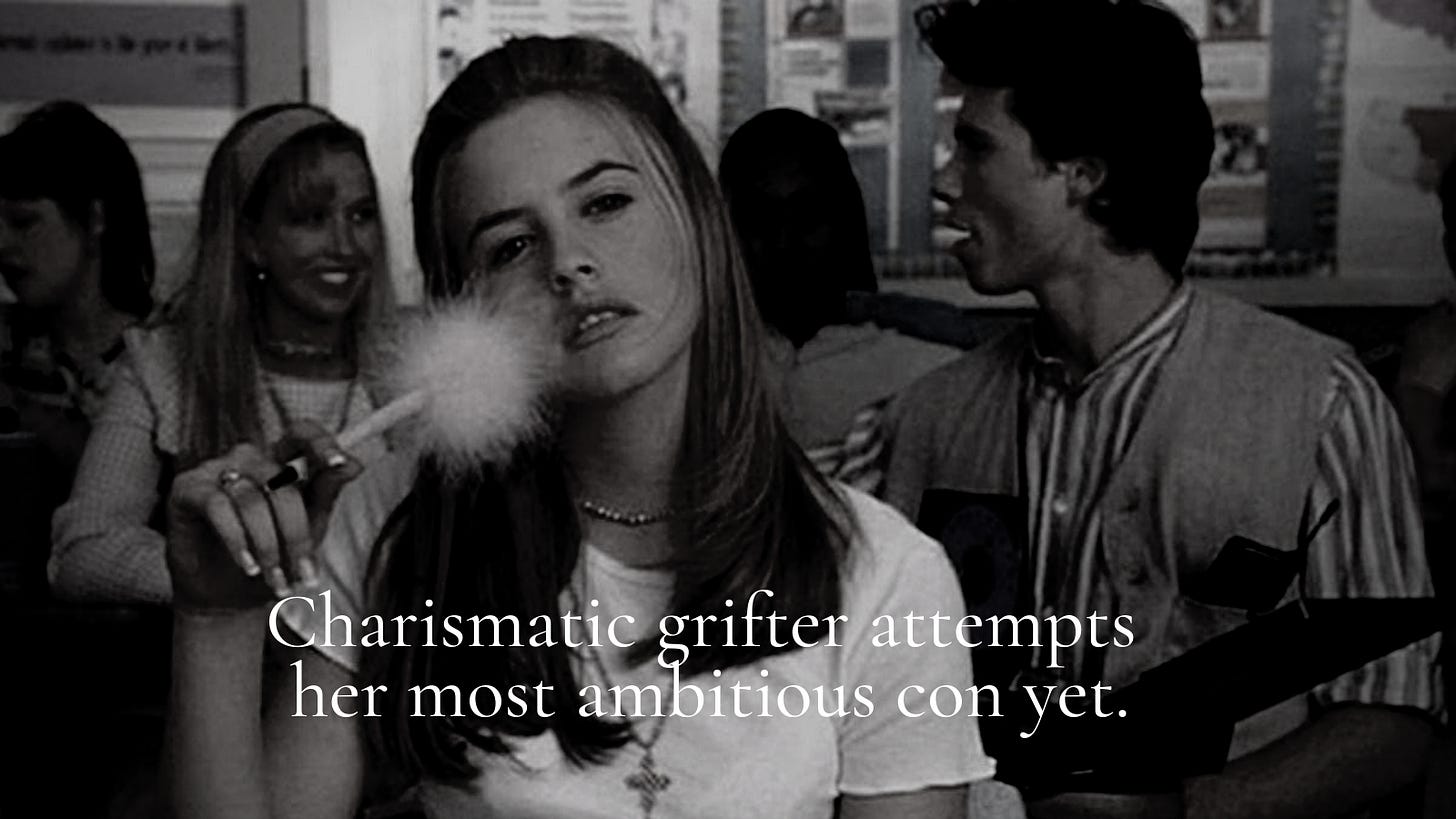 Have a lovely weekend.